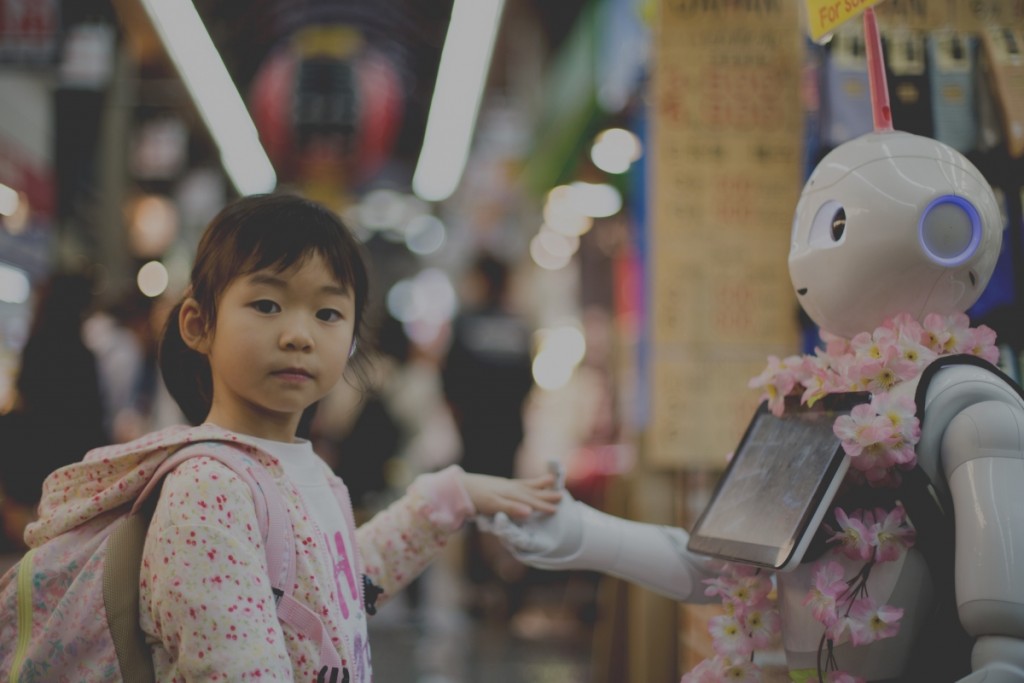 Have you heard of Society 5.0? It's the Japanese government's vision for the future, and it envisages a world very different from the one we live in now.
What is Society 5.0?
"Society 5.0 represents the 5th form of society in our human history, chronologically following hunting, farming, industry, and information. The Fourth Industrial Revolution is creating new values and services one after another, bringing a richer life to all."

Japanese government website
According to Japan, we're now entering the Super Smart Society, where there will be a digital layer over everything.
Think drones delivering packages and groceries; robots assisting humans in work roles and even in caring for the elderly; self-driving cars and smart home appliances.
Which is simultaneously exciting and scary. Because at this level of technological development – with big data, cloud computing and smart devices permeating every aspect of our lives – we really need to be sure that our societies are headed by leaders with serious moral and ethical chops.
Principles matter — more than ever
Without principles, things could get messy. Really messy.
I came across "Society 5.0" a couple of weeks ago when I spent an enlightening day with the always "on it" Roger Hamilton. Roger's the Founder of Entrepreneurs Institute and the creator of GeniusU, Wealth Dynamics & Talent Dynamics.
I'm a huge fan of Roger's work and was intrigued to find out his latest thinking on the challenges we're facing – and he didn't disappoint.
Among his insightful take on our global future, I was re-presenced by Roger to Buckminster Fuller's warning on the times we are living in. Now, this was from 1975 (so are we getting it yet?):
"I have to say, I think that we are in some kind of final examination as to whether human beings now, with this capability to acquire information and to communicate, whether we're really qualified to take on the responsibility we're designed to be entrusted with."

Buckminster Fuller
I came away from the event feeling inspired, excited… but also, pensive.
Are we qualified to take on this responsibility? Individually, collectively… globally?
Never in my life – not even as a student – have I been so present to the "this is it – this is the final exam" feeling that I feel now. (And frankly, if I'd failed my med school finals, one person's career direction hung in the mix. Mine. If we screw THIS exam up – well, we're all screwed. Properly.)
Change is possible
What lifts me up is seeing that things really are beginning to change. Not everywhere, but in some places.
For example, I really believe we will not see the shifts we want to see the world over until women (who make up half the population) make up half of the leadership positions.
I'm not alone in this. Christine Lagarde, managing director of the IMF, has been quoted as commenting on the 2008 financial crisis that
"if it had been Lehman Sisters rather than Lehman Brothers, the world might well look a lot different today."
So where can we look for inspiration?
Globally, there are countries where the political balance is beginning to shift. In 2015 Canada's cabinet was equally weighted between men and women. And in Spain last year, Pedro Sánchez announced a cabinet that was 65% female. Half of Ethiopia's cabinet positions are filled by women right now.
Some progress is being made. But there is still so much to be done.
Thinking about the emerging technical revolution, and the vast ways our society will be transformed over our lifetimes reminds me that for those of us in leadership roles of any kind there is no time to waste.
When my kids say "where were you when there was still time Mum?" … what will I say?
Today I feel I can say I did the very best I could.
How about you?